You can contact scifisuzi here (take out the words "NOSPAM")
ATTENTION:
If you would like to have me personalize a tag for you, I'd be happy to. CLICK HERE TO OPEN EMAIL, Copy all the text underneath the tag you want, and paste that info into the email. Be sure to include the name and/or text you want on the tag. (Do NOT change the subject line).
(See example below:)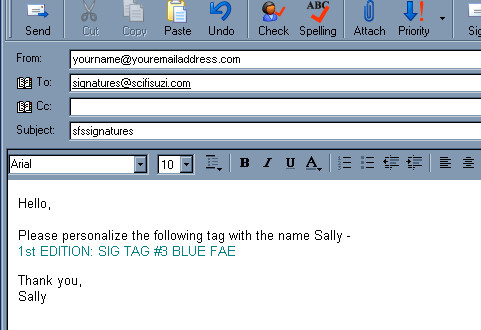 Have you checked the Alphabet Name pages? Your name may already be on the tag you want. You can find those pages here.
Just "name" tags are posted for adoption - no tags with personal messages, surnames, or couples name will be posted. The decision to add a name tag to these pages will be at my own discretion.


A link back to my site is always appreciated.
If you would like to link to me, or exchange banners, please GO HERE